The internet is a system that demands more: more engagement, more clicks, more ads, more content, more code, more servers, and more devices. The size of a typical web page has increased exponentially in recent years. Thirty-nine percent of young Americans report they are online "almost constantly." Today almost 20% of American households contain more than 10 internet-connected devices, which have their own associated energy costs. By 2025, the internet will account for 20% of the energy consumed on the planet.
Last month, Low-Tech Magazine quietly published a completely redesigned site for its technology- and energy-focused journalism that looks radical by comparison. The premise is simple: Less.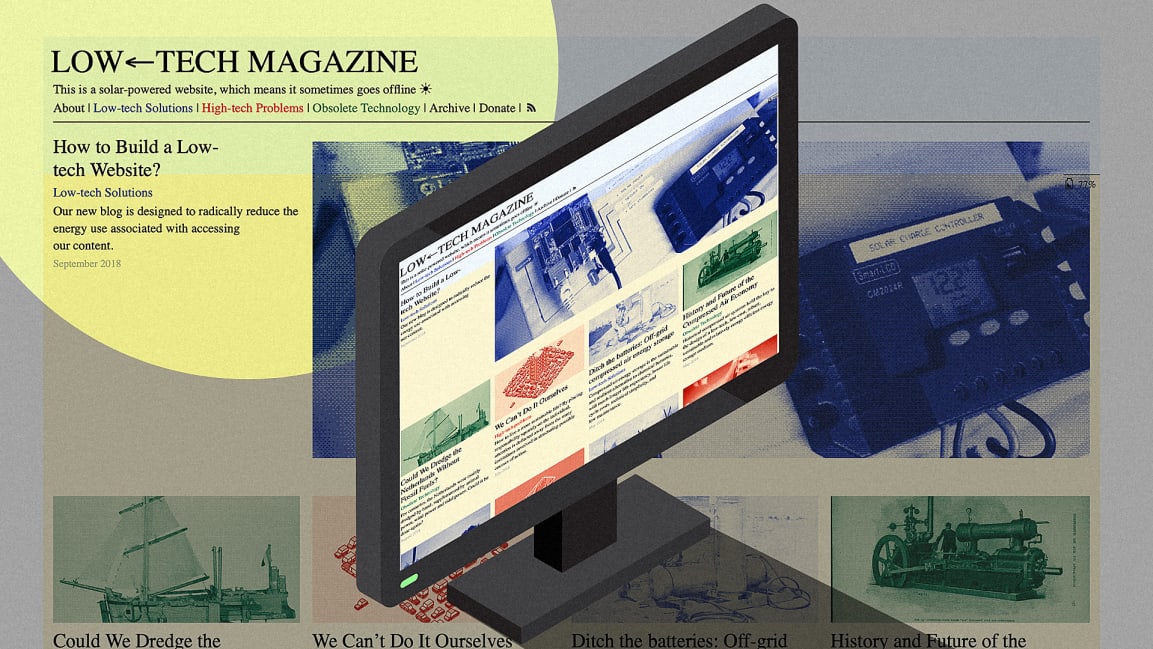 Unlike millions of other dynamic sites on the internet today that retrieve each piece of content from a database any time someone visits, Low-Tech's solar-powered site is simply static documents stored on a single, self-hosted server.
That server is powered by a small photovoltaic array on founder Kris De Decker's balcony in Barcelona, which keeps the site online when it's sunny. If it's cloudy for more than a day or two, Low-Tech goes offline. A battery icon on each article shows how much juice the server has left and the forecast (sunny and 83%, at the moment).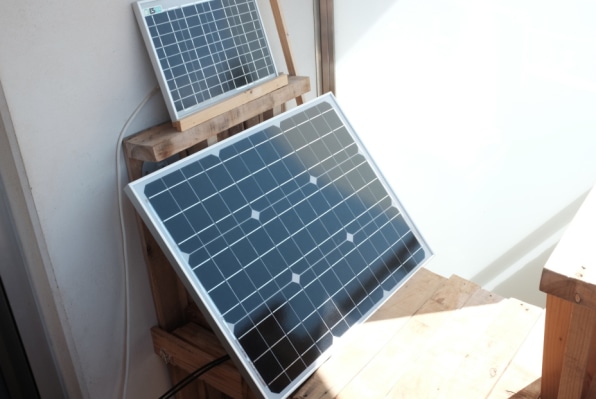 Here are no ads or pop-up dialogs, and images are compressed to a bare minimum. The logo is a unicode symbol and the typeface is your browser default, which means your computer doesn't have to query a server. All in all, the average page size is five times smaller than the old site.
It's a radical departure from the digital design of today, where more videos and dynamic features have made web pages heavier and heavier. But the new site isn't a Ludditical argument for the return of 1990s-era internet. It's more like a reminder that our internet has weight–and everyone, from developers and designers to writers and readers–contributes to it.
The new site is the result of two summers of collaboration with artist Roel Roscam Abbing and designers Marie Otsuka. and Lauren Traugott-Campbell, who received a grant while at RISD to work with De Decker on developing a low-energy platform and content management system for the magazine. Otsuka, now graduated and working as a type designer, wanted the the site to expose its own infrastructure.
---
What makes the idea so powerful is that, by reducing the energy footprint of the site, the design also subtly improves the experience of the person reading it. Because it has no ads, relying instead on Patreon donors, the site has no cookies or third-party content to track visitors. It doesn't profile readers. There are no pop-up boxes or dark patterns. Because it exists as a static site, each page downloads 10 times faster. The fact that it won't be available sometimes forces readers to "plan" when they will access its content around the weather and the time of day, rather than deluging them with it at all hours.
The design nudges readers to consume less energy, which means altering our behavior and being a little more thoughtful about the information we consume. It makes the internet feel like a finite resource: Rather than begging us to click, it asks us to only click when we need to.
Do you really need that extra tab?